June 23, 2017
Locally Sourced Foods are Some of Texas' Most Beloved Brands
Posted by: Michelle London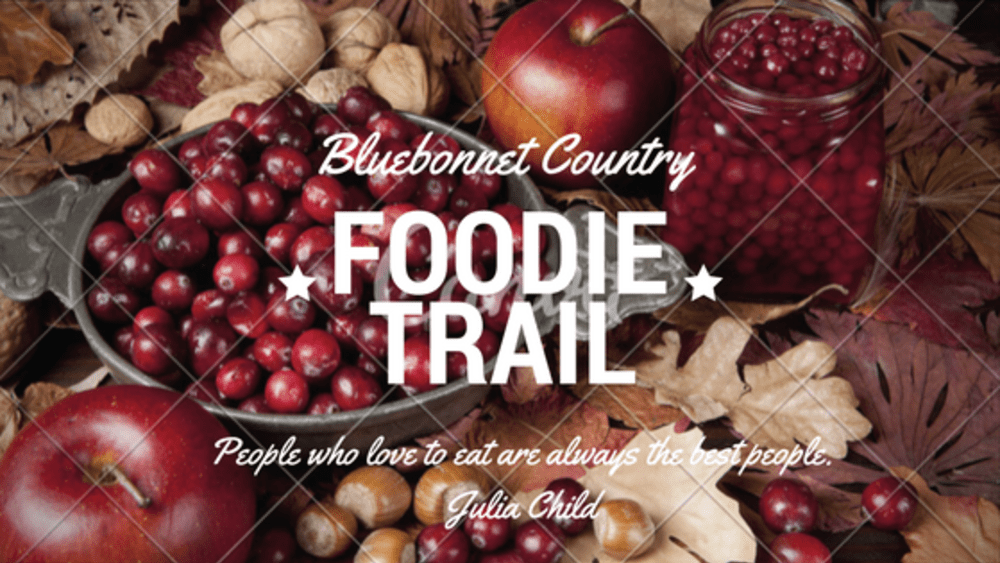 At Lillian Farms, we love using locally sourced ingredients and food products. Whether it's herbs and vegetables from our own kitchen garden, a hometown treat from a generations-old family company, or meats and sausages that would be the star of any charcuterie board, we really enjoy telling our guests that what we're serving them literally comes from just down the street.
Here are some of our favorites. Food aficionados can (and should!) spend an entire weekend in Washington County just eating their way through the local products they'll find here. Lillian Farms is proud to be partnered with some of them.
Our recommendation: Make Lillian Farms your home base, then wend your way along your very own Foodie Trail.
Blue Bell Creameries -- Explore the history of the region's most loved ice cream, visit the on-site ice cream parlor, and walk along the new observation deck to see how Blue Bell is made.
Bliss Candy Company -- Several different flavors of toffee, peppermint bark, lemon bark, and cupcakes will have you coming back again and again!
Brazos Valley Brewing Company -- The patio (very family and pet friendly, by the way) is open on Fridays, Saturdays, and Sundays (check their website for times). Sometimes there's live music, sometimes there's food, but don't count on either -- this is a laid back bunch of brewers who just let happy things happen in their own time. Call ahead and make an appointment if you'd like a tour.
Brianna's Salad Dressings (Del Sol Foods) -- Brianna's gluten-free, kosher-certified dressings can be found in dozens of grocery and speciality store chains across the country, and they're made right here in Brenham, Texas!
Chappell Hill Sausage Company -- Known for its smoked link sausage, Chappell Hill Sausage also produces bacon, summer sausage, and spiral honey glazed ham. While you'll find Chappell Hill Sausage products in many grocery stores, you can also stop by their on-site store or restaurant to satisfy your meat craving.
Home Sweet Farm Market & Biergarten -- Brad & Jenny Stufflebeam are pretty amazing! Their Home Sweet Farm sells many local farm goods, including cheese, jams and jellies, meats, soaps, gourmet oils, and more. There are an impressive number of local beers on draught, and they often offer a cheese or charcuterie plate of (what else?) local products. On top of that, HSF showcases local musical talent, quenches the local intelligentsia's need for competitive trivia, loves giving food trucks a place to park and sell their wares, and is headquarters of the Texas Chapter of the North American Zythological Society, a group that...well, loves beer -- tasting it, brewing it, enthusing over it. In other words, this is a place you need to visit.
Independence Coffee Company -- One of the questions I get asked the most by our guests is "Where do you get your coffee?" I don't know how many new customers Independence Coffee has gained as a result, but I would guess at least a few! Choose from signature flavors like Madalyn's Backyard Pecan, Caraline's Sugar & Spice (named for the owners' two daughters) or Old New Orleans Creme Brulee. Or be daring and try one of their original dark roasts (who doesn't want to experience a coffee called "Jet Fuel"?). Not a coffee drinker? That's ok -- Independence also offers tea, herbal tea, and iced tea blends. Independence Coffee has a kiosk in the local HEB, or visit their factory store. I guarantee you're gonna wanna breathe deep and smell the coffee.
Kountry Boys Sausage -- Starting with a family recipe passed down through their German/Czech/Polish ancestors, this Brenham-based family-owned business now stocks its products in over 500 stores in Texas and beyond. And only in Brenham can you visit the Kountry Boys Bakery & Restaurant for fresh-baked goodness! Kountry Boys serves breakfast and lunch 7 days a week from 6 am-3pm.