June 12, 2017
Making Your Lodging Choice at Lillian Farms: Traditional B&B or Self-Catering Cottage?
Posted by: Michelle London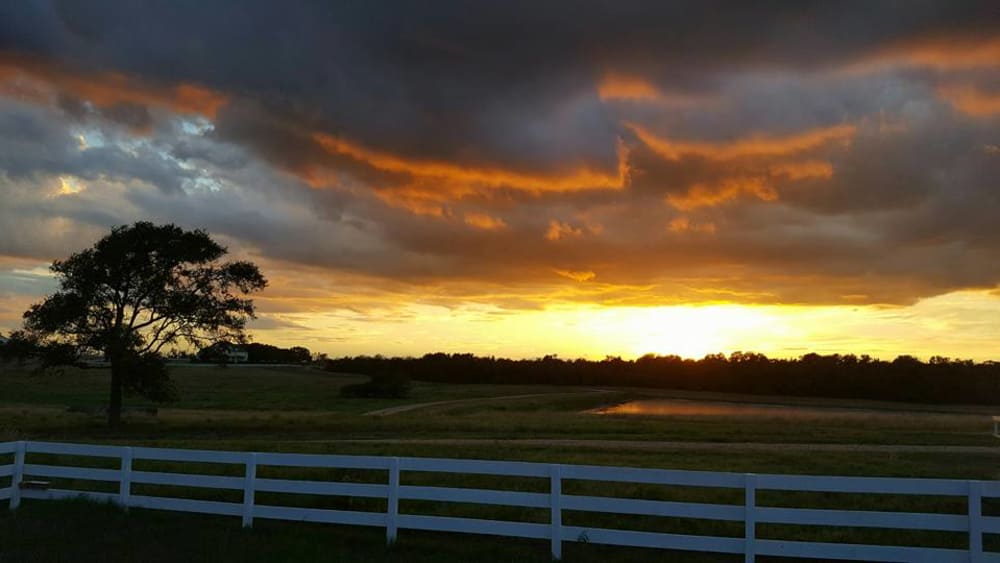 At Lillian Farms, our guests are lucky enough to have the choice of staying in our Bed & Breakfast or choosing one of our private cottages. But sometimes, maybe because owner Barbara Segal ran the B&B for several years before beginning to build the cottages, it can be confusing as to what is and isn't included when you choose to stay in one or the other.
With that being said, here is a primer for visitors to help them decide: B&B or cottage?
Bed & Breakfast
A bed & breakfast is defined in the Merriam-Webster Dictionary as "a house in which someone can rent a room to sleep in for a price that includes breakfast the next morning". The first use of the term appeared in 1905, so the bed & breakfast model has been around for quite some time. While things like shared baths, old, dark homes, and over the top "Grandma's house looks like a museum" decor that was often found in B&Bs 30, 40, or 50 years ago may have turned some people off to the idea of ever staying at a B&B, today's bed & breakfasts are often in new or restored homes that are light, airy, and modern (Lillian Farms was built from the ground up beginning in 1999 and completed in 2002). Private en suite bathrooms are the norm. The room rate will include breakfast each morning of your stay.
We do have televisions in all of our guest rooms, and they are loaded with Amazon FireTV, which lets you access Netflix and similar apps for streaming TV shows and movies.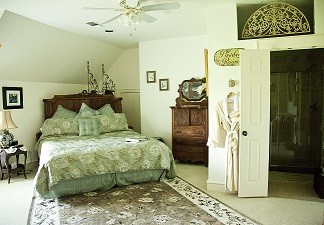 While personal service is as unique and varied as B&Bs themselves, at Lillian Farms we pride ourselves on our attention to our B&B guests. You won't find someone sitting at a desk in a lobby 24/7 (we're not a hotel, so we don't have a lobby), but the owner and the innkeeper live on-site and are just a phone call away, and our housekeeping and maintenance staff are dedicated employees who go above and beyond whenever needed.
Breakfast often reflects the personality and creativity of the owner and staff. At Lillian Farms, the words "Continental breakfast" are not in our vocabulary. Our B&B guests get to enjoy a sit-down breakfast served by the innkeeper in the formal dining room each morning. We love the looks on their faces when they see a beautiful table set with American sterling silver, water goblets from Poland and Czechoslovakia, English china, silver butter dishes, leaded crystal water pitchers, and more, all the result of Barbara's life-long passion for traveling and collecting.
When we serve a large number of guests, we'll prepare a beautifully presented buffet. It might be as simple as a breakfast taco bar or as fancy as quiche Lorraine.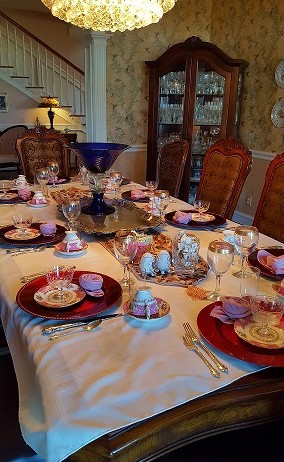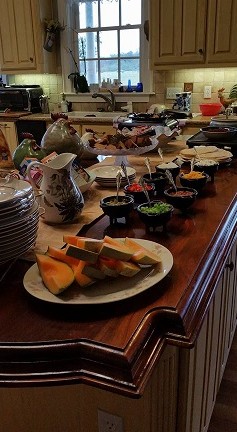 Our breakfast has become known for using locally-sourced products from local businesses (Independence Coffee Co., Chappell Hill Sausage Co., and Brianna's Fine Salad Dressings among them) and fresh herbs and vegetables from our very own kitchen garden. And while ice cream might sound like a fine breakfast idea for some, you won't find it on the menu. But we do stock Brenham's own Blue Bell old-fashioned vanilla ice cream in the hospitality bar for our B&B guests.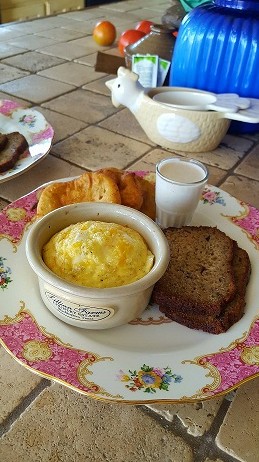 If you stay at the Estate House at Lillian Farms, you will have a true bed & breakfast experience.
Private Self-Catering Cottages
"Self-catering" is not a term that is common in the U.S., but as the demand for diversified lodging choices increases, it is becoming more well-known. Merriam-Webster defines self-catering as "provided with lodging and cooking facilities but not meals".
The term is also not as old as "bed and breakfast", having found its way into the European vernacular around 1970.
In Europe, self-catering cottages, vacation rentals, or holiday homes are very common. In fact, 10% of all housing in France and 5.6% of all housing in Great Britain have been registered as self-catering holiday homes. In rural areas of Scotland, 1 in every 8 homes is considered a self-catering rental. In contrast, 3% of all housing in the U.S. is considered a self-catering accommodation. Maine leads all states with over 15,000 of them.
Lillian Farms has eight self-catering cottages ranging from around 500 square feet to 1050 square feet. They're designed for guests who want a bit more privacy and who perhaps want to enjoy a family vacation as opposed to a romantic weekend getaway. (Our cottages are child-friendly, while the B&B requires children be 14 or over to stay in the Estate House.) But make no mistake, our cottages are great for romantic weekends, too!
These accommodations are self check-in as well, meaning you receive all of the information you need to proceed directly to your cottage after check-in time on the day your stay is slated to begin.
The level of privacy you enjoy in our cottages is really up to you. Some of our guests like visiting the Estate House to meet the owner and take a look around. Some will make a reservation to come for breakfast. We have several guests who have enjoyed coming back again and again for years, and we've never met them. It's all ok with us -- we want you to be comfortable and happy here. Just let us know if we can help.
Each cottage is unique in its layout and decor, but they have a few things in common. All of them have propane gas grills (propane tanks are provided) and full kitchens with stove, microwave, refrigerator, and coffee maker.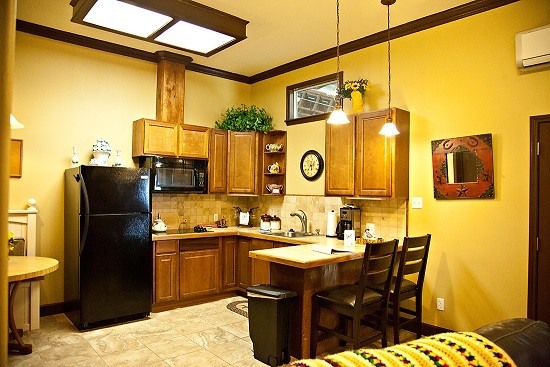 Seven of the eight cottages have hot tubs. While the Estate House has Wi-Fi access, six of the cottages do not. (Our barn cottage,The Secretariat, and our Carriage House accommodation, The Country Penthouse, do receive Wi-Fi access.) While each cottage has a television, only King Kevin's Hideaway, Lady Kassie's Rose Cottage, and The Country Penthouse have satellite access to DirecTV. The Secretariat has AppleTV (access to apps like Netflix) and all of the other cottages receive local channels only.
You'll find these things in almost any self-catered cottage anywhere, and you'll find them here, too: Linens, dishes, flatware, cups/mugs, cooking utensils like spatulas, knives, and spoons, pots and pans, hair dryer, ironing board and iron, robes, and towels.
During spring/summer seasons, we try to keep insect repellent and other sprays for bugs at each cottage, but we also recommend that guests bring their own, just in case. We are in the country, and we are constantly at war with Mother Nature.
We also provide some things you won't typically find in a self-catering accommodation: soap, shampoo, DVD player, coffee/coffee filters, sugar/sweetener, non-stick spray for cooking, matches for lighting the grill and breakfast items (eggs, sausage, orange juice, fruit cups, oatmeal, cinnamon rolls, biscuits, and butter) for making breakfast.
Cottage guests are welcome to make a reservation (24 hours ahead is appreciated) for breakfast at the Estate House at additional cost. Some guests who stay two or three days enjoy coming to the house to experience our B&B breakfast on at least one morning of their stay.
What sets our cottages apart from many other similar accommodations is that we have on-site staff who can be reached by phone at any time. If you need more of anything, are having an issue with anything at your cottage (we are also occasionally at war with technology), or need something like a bag of trash taken out of the way, just give us a call and let us know. Whatever the request, we do our best to help.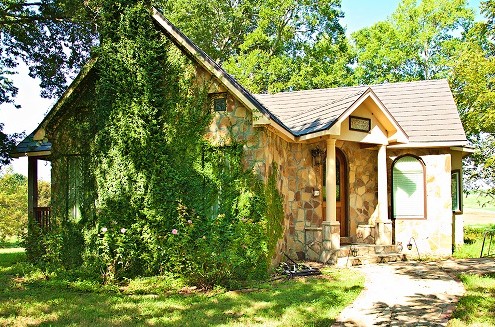 We hope this helps you in the decision-making process as you plan your visit. We can't wait for you to experience Lillian Farms Bed & Breakfast and Country Estate!