Historic Cemetery & Museum Package
Explore the History of Washington County and the Surrounding Region
Far from being creepy, haunted places to hurry past, cemeteries are often beautiful spaces filled with art, architecture, poetry, sculptures, and so much more. There are many stories to be told if one would just stop and listen for a while.
Our cemetery package will give you the guidance and sustenance to spend the day exploring these fascinating places.
This package includes a picnic basket for two packed by our innkeeper, the book "Texas Cemeteries" by Bill Harvey that will guide you to many of the cemeteries in the region, and two tickets to The Star of the Republic Museum at Washington on the Brazos State Historic Site.
Plan your day the way you want -- visit many cemeteries or just a few, start at the museum or end there, picnic among the angels or next to the Brazos River. The day is yours to plan, and we'll give you the knowledge to memorably traverse some of the most historic cemeteries in the state, appreciate the art that lies within, and meet some of Texas' most famous (and infamous) characters.
$125 (includes picnic basket for two, two tickets to The Star of the Republic Museum, one copy of "Texas Cemeteries" by Bill Harvey, and a map to guide you during your adventure)
Accommodations not included.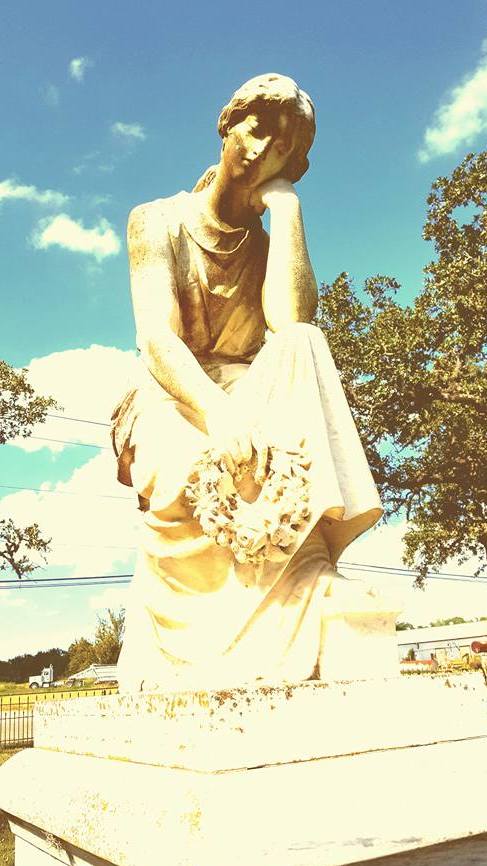 4 for 3 Special
Our Most Popular Promotion is Back!
Our guests love coming to Lillian Farms -- and they love it even more when they can stay an extra night for free!
Stay for four nights in one of our Southern Cottages, Secretariat Cottage (our unique barn accommodation) or The Country Penthouse, and your fourth night is on us!
Mention "4 for 3" when booking by phone, or enter "4 for 3" in the notes when making your reservation online.
This promotion is good only for reservations in any of the following cottages: Southern Belle, Southern Dream, Southern Comfort, Southern Charm, Secretariat, and The Country Penthouse.
This promotion cannot be applied during Memorial Day or 4th of July weekends/holidays.
This summer promotion ends on August 31, 2017, and is good only for reservations booked and redeemed between May 1, 2017 and August 31, 2017. It cannot be applied to any reservations booked for future dates after August 31, 2017.
Love & Marriage, Horse & Carriage
An Extraordinary & Memorable Way to Propose or Celebrate a Special Occasion
You choose the setting somewhere on our 230 acres of beautiful landscape (or let us choose it for you -- we know a few choice spots) -- we'll make sure it's ready at the appointed time, complete with flowers, champagne, and an indulgently delicious picnic lunch.
Round Top Carriage Co. will pick you up at our Estate House in a horse-drawn carriage. Clip-clop your way across the property and take in the lovely vistas before disembarking at your special spot. Whether it's a wedding proposal, birthday celebration, or milestone anniversary, we're sure it will be a day to cherish. Take home the etched wine glasses, and we'll also e-mail you a keepsake photo you can print out and frame.
We'll make sure you get back to your accommodations following your picnic -- so relax and take your time!
Due to the planning and scheduling that must be done for this package, please book well in advance (at least two weeks).
$850 (includes carriage, champagne, flowers, picnic set-up, delivery, and clean-up, keepsake photo, wine glasses.
Accommodations not included.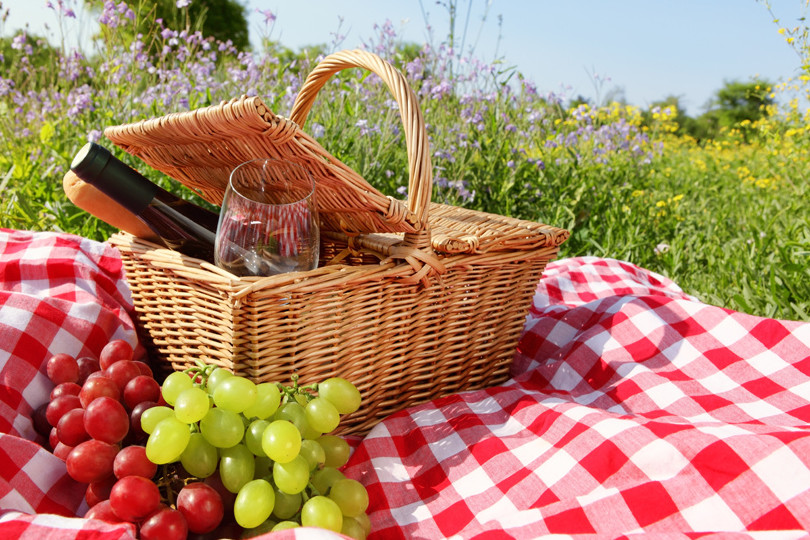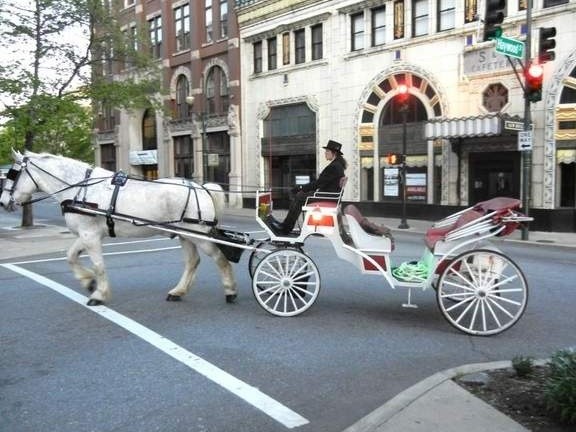 Romantic Getaway
Perfect for honeymoons, anniversaries, birthdays, or any special milestone, our Romantic Getaway package has "I love you" written all over it.
Upon arrival, you'll find a fresh flower bouquet, decadent chocolate covered strawberries, a tray of artisan meats and cheeses, and your choice of a bottle of Sunset Red or Chardonnay wine from Chappell Hill's own Texas Star Winery. We can substitute champagne or a non-alcoholic beverage. Just let us know when you book.
Schedule a one hour couples massage in the privacy of our spa room (some of our rooms/cottages can accommodate an in-room massage. Please inquire). Then spend the day exploring the pastoral countryside.
That evening, experience a fabulous dinner with your $50 gift certificate at your choice of Volare (Italian), 96 West (tapas and local wines and craft beers). BT Longhorn Steakhouse or R Place (home style American fare in a renovated gas station/mercantile).
Breakfast at the Estate House and a late noon check-out is included.
Pamper yourself and your loved one with this special getaway package.
$595 (does not include accommodations)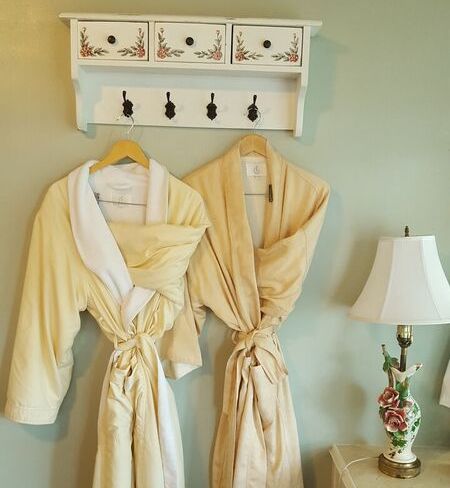 Gold Romance Package
Upon arrival, enjoy a seasonal flower bouquet, your choice of red or white wine, chocolate covered strawberries, and an appetizer tray featuring fresh fruits, meats, and cheeses.
A $50 gift certificate towards dinner at your choice of Volare Italian Restaurant, R Place, BT Longhorn Steakhouse, or 96 West is included.
Champagne or non-alcoholic beverage can be substituted. Just let us know in advance.
$295 (does not include accommodations)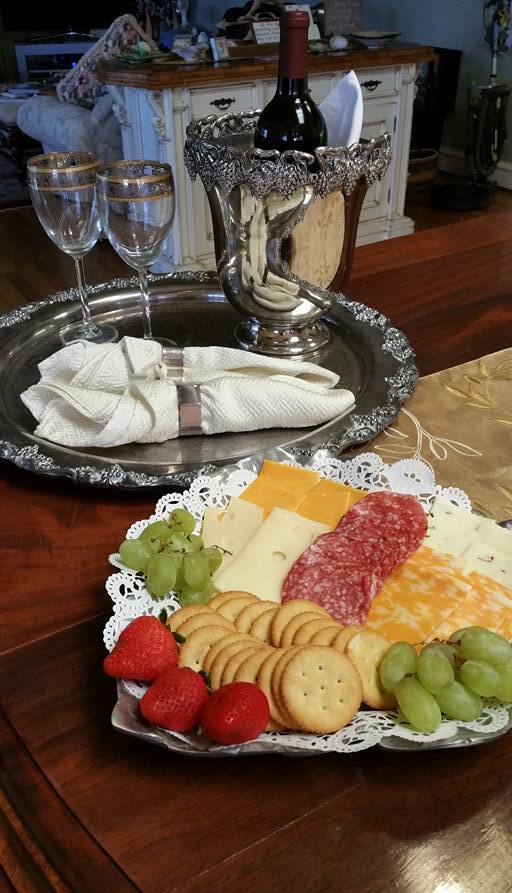 Silver Romance Package
Upon arrival, enjoy a fresh seasonal bouquet of flowers, chocolate covered strawberries, and your choice of a bottle of red or white wine.
$125 (does not include accommodations)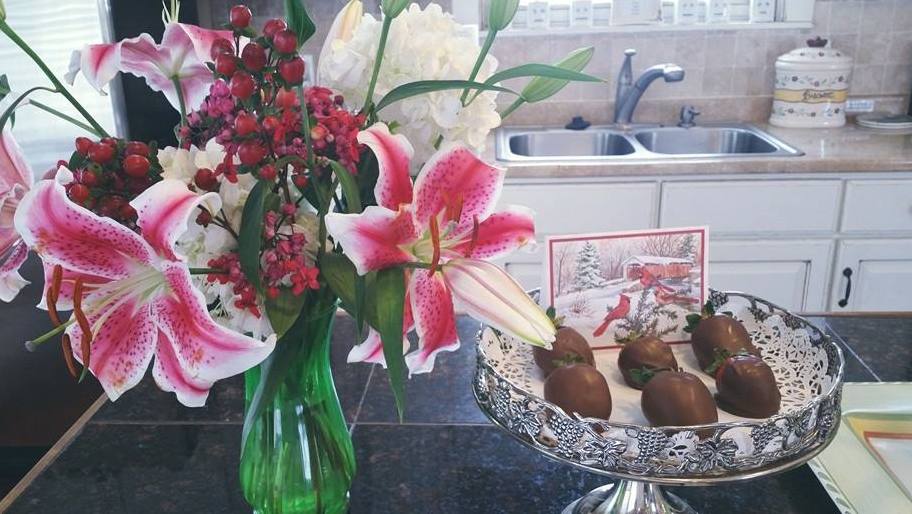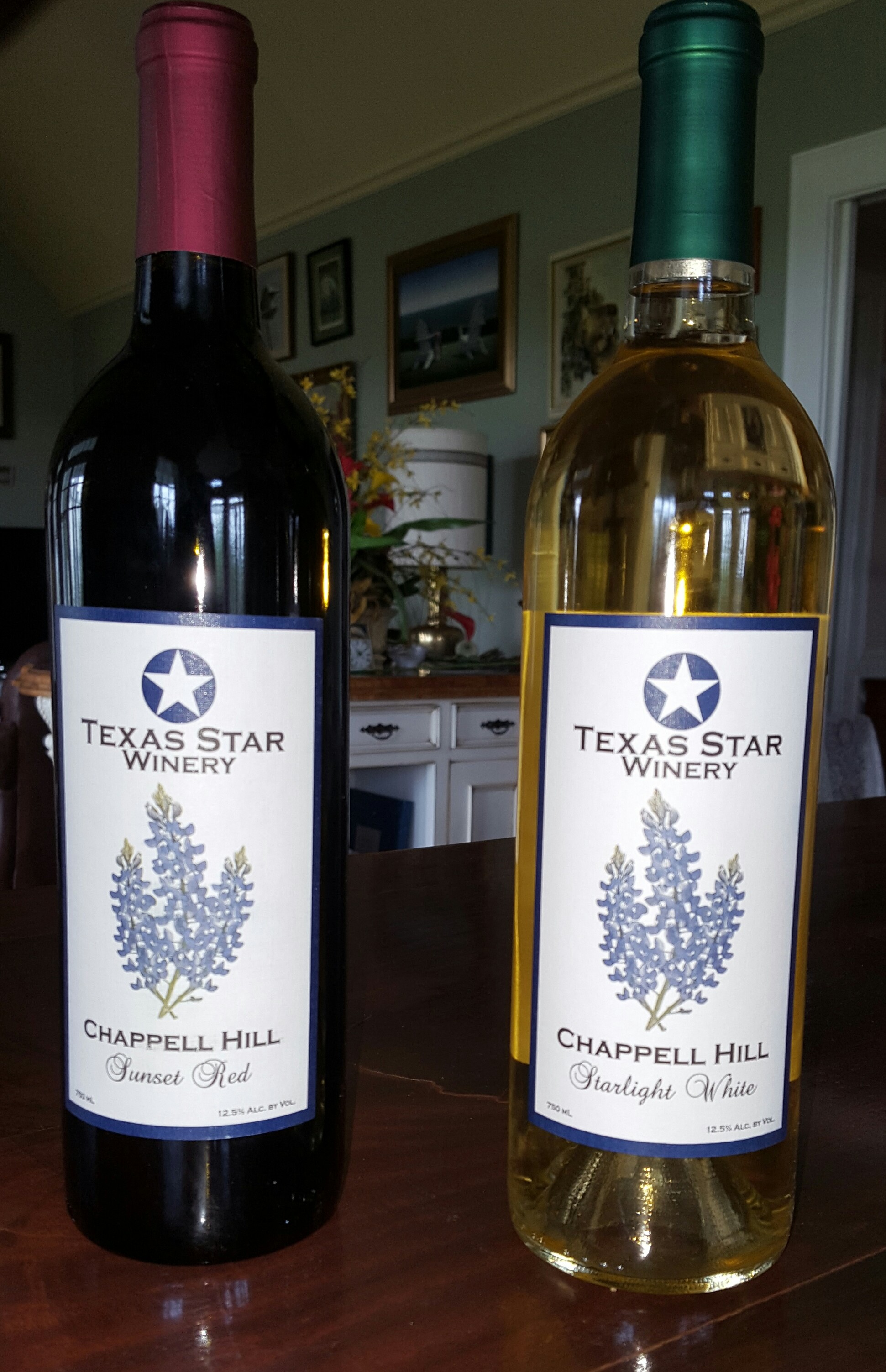 Picnic Basket
Enjoy a sumptuous picnic basket lunch personally prepared by our innkeeper. Freshly made sandwiches, cheese and cracker plate, side dish, fresh seasonal fruit, locally bottled soda, and perhaps a surprise or two are carefully packed into a picnic basket for you to pick up at a time you request and enjoy wherever you like.
Please order at least 24 hours in advance
$55 (does not include accommodations)
Add a bottle of wine for an additional $30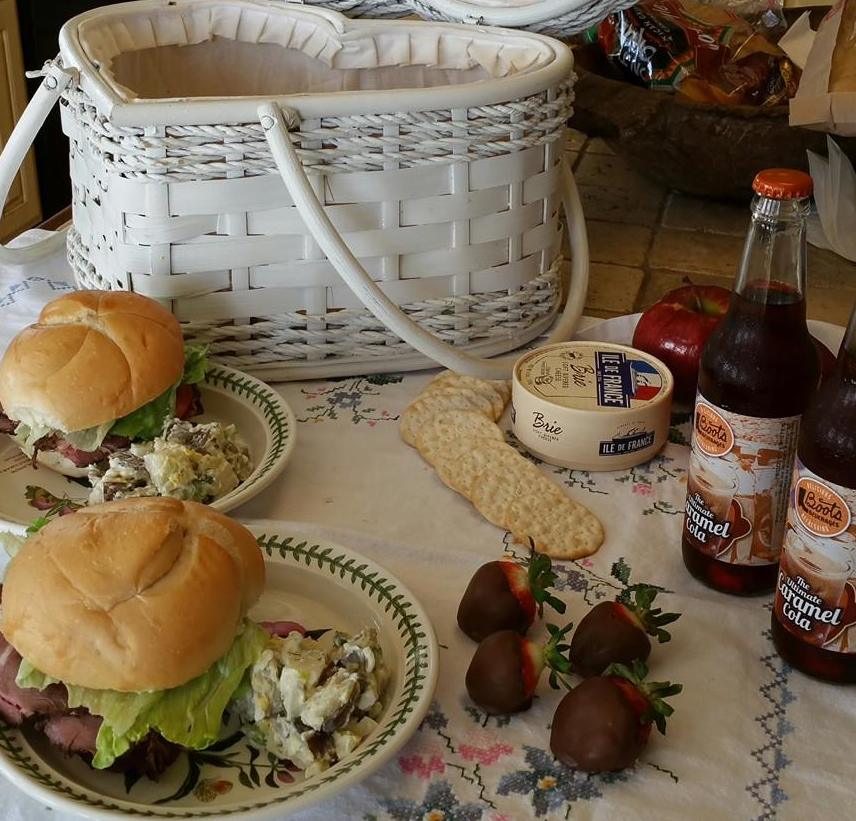 Cottage Meal Baskets
Sometimes you get here and you just don't want to leave. That's ok -- We can do the grocery shopping for you! We'll buy the goods and make sure everything is in your cottage prior to your arrival.
Steak, Chicken, or Vegetarian packages are available. We customize each package after speaking with you, so each one is a bit different, but you can count on enough food for two -- entree, veggies, salad, condiments, non-alcoholic beverage, and dessert.
Just want something to snack on during your stay? Order our snack basket and we'll have an assortment of snacks and your favorite non-alcoholic beverage waiting for you upon arrival.
Want to feed more than two? We'll just add the cost of any additional food purchased to the package price.
Please order at least 24 hours in advance.
Steak $90
Chicken $70
Vegetarian $45
Snack $35
(Does not include accommodations)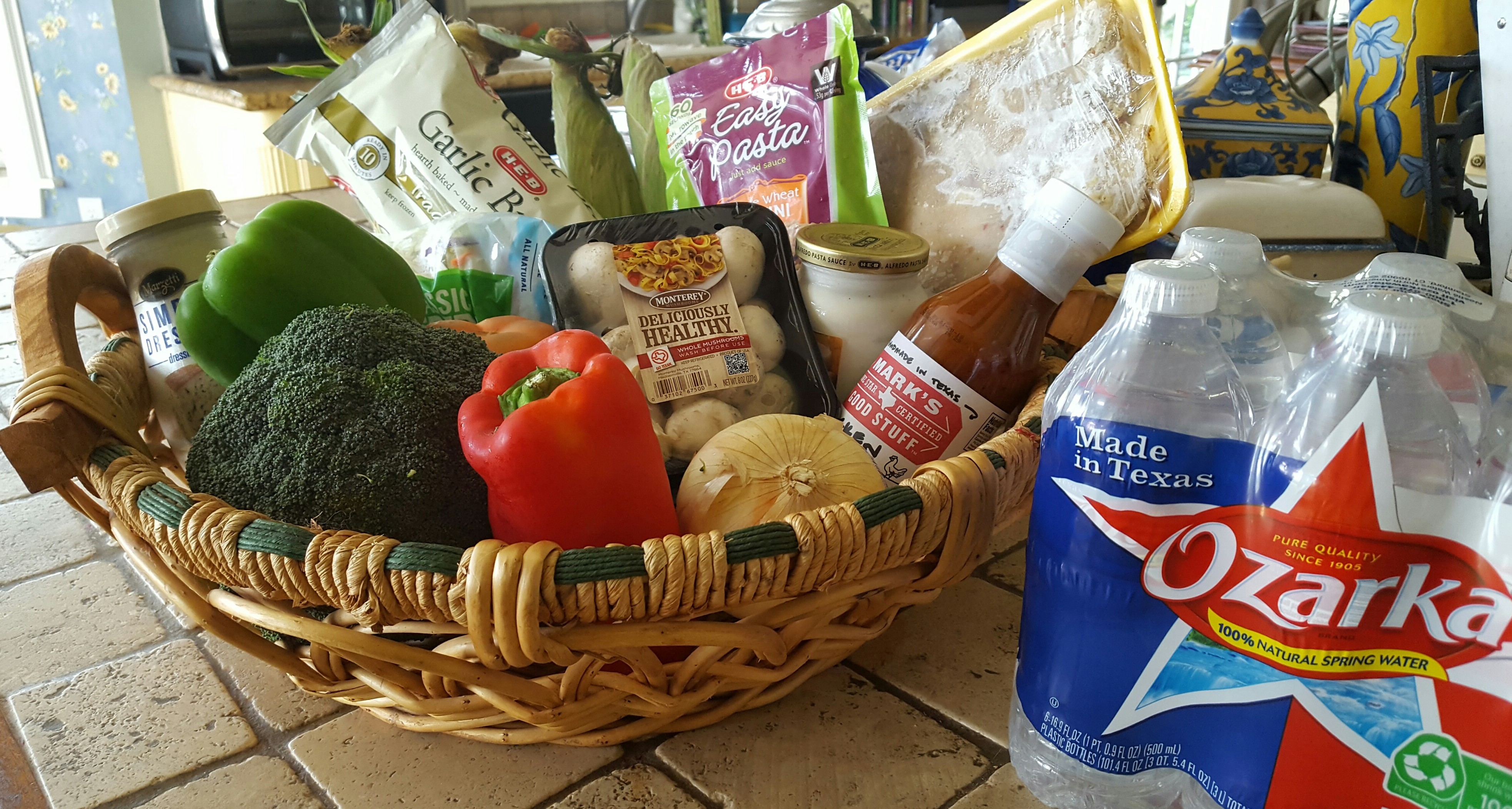 The Ultimate Stress-Free Getaway
Close to Home, Yet a Million Miles Away
Americans are stressed -- it's just a fact of life. Between work, family, volunteering, and other obligations, it can be hard to carve out any time to kick back, de-stress, and relax.
Our stress-free getaway gives you the motivation to make time for a night (or two) of relaxing. You don't have to do anything except show up.
Upon arrival, there will be one of our signature snack baskets ready and waiting for you to gnosh on before or after dinner (it's up to you -- there's no timetable here). We'll also include your choice of a bottle of red or white wine, or a six pack of locally brewed beer.
There will also be a $50 voucher for dinner at your choice of Volare Italian Restaurant, 96 West, or BT Longhorn Steakhouse. No hurry -- you decide when you want to use it.
The next day, partake of our served Country Gourmet breakfast at the Estate House. At noon, we'll have a picnic basket lunch ready for you with freshly made sandwiches, seasonal fruit, a homemade side, locally bottled soft drinks, and more. Take it with you and enjoy it wherever you like.
This package also includes two massages -- enjoy a side-by-side couples massage or schedule your massages at separate times. It's all up to you!
By the time your stay with us ends, our hope is that you will be refreshed, rejuvenated, and ready to take on real life once again!
The Ultimate Stress Free Getaway includes:
Two Massages
Two Estate House Country Gourmet Breakfasts
Our Signature Picnic Lunch Basket
$50 Dinner Voucher to your choice of one of three local restaurants
Our Signature Snack Basket in your cottage or room upon arrival
Your choice of red or white wine or regional beer
$495 (Accommodations not included)